5052 aluminum coil belongs to alloy, which is widely used and is a promising aluminum alloy. 5052 aluminum has good corrosion resistance, good weldability, good cold processing, and has moderate strength. 5052 alloy aluminum coil has high strength, especially high fatigue resistance, high plasticity and corrosion resistance, good weldability, poor machinability and polishing.
CHEMICAL COMPOSITION LIMITS (%)
Si
Fe
Cu
Mn
Mg
Cr
Ni
Nickel
Zn
Ti
Others
Total
0.25
0.4
0.1
0.1
2.2 - 2.8
0.15 - 0.35
-
0.1
-
0.05
Remainder
Application
5052 aluminum coil is suitable for marine applications. Moreover, 5052 aluminum coil can be applied to bodies of boats, buses, trucks and trailer, as well as for chemical drums. And it is also vastly used to electronic casings, such as notebook computers and televisions. It has high quality and value. 5052 aluminum coil is also environment friendly because aluminum is infinitely recyclable.
Shipping & Packaging
1. To ensure that the surface of the 5052 aluminum coil is intact without scratches, we will clamp paper and cover film on the 5052 aluminum coil;
2. The plastic or kraft paper package is used for moisture-proof and rain proof to ensure that the 5052 aluminum coil is clean and free from dirt during transportation
3. Export products are all packaged in wooden cases and brackets marked with fumigation;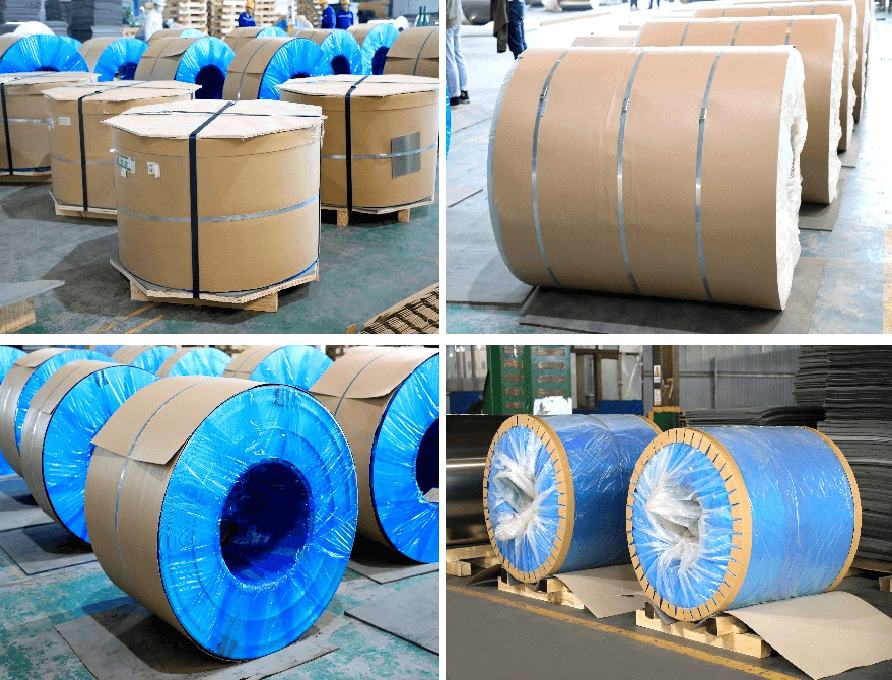 What are your advantages?
1) Fast delivery time
2) High quality, quantity is with preferential treatment
3) We can process to different finish you request
4) 800 Tons/Month, high production capability will short your wait time.
5) Good quality with reasonable price
6) Buyer's Specification Accepted
7) Experienced R & D Department
For More details of each item,contact our sales to know more about it.Thanks for your visiting of JM steel,save our web.You will be more professional in steel industry.