A36 Alloy Steel sheet
A36 is the most commonly used mild and hot-rolled steel. It has excellent welding properties and is suitable for grinding, punching, tapping, drilling and machining processes.

Yield strength of A36 is less than that of cold roll C1018, thus enabling A36 to bend more readily than C1018.
A36 steel can be manufactured into various structural steel parts, it is vastly used in many different industries for a variety of applications.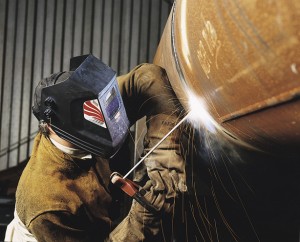 why choose A36?
It provide good mechanical property and cost less. For example, it is also used in many bridge construction. Buildings are frequently constructed with A36 steel because of its high strength and toughness. Further more, A36 steel is also used in fields of automotive, construction, heavy equipment, and oil and gas industries.
This standard applies to riveted, bolted and welded structures for bridges and buildings, as well as carbon steel sections, steel plates and bars of structural steel quality for general purposes.
The yield of A36 steel plate is about 240MP, and its yield value will decrease as the thickness of the material increases. Due to the moderate carbon content, the overall performance is better, the strength, plasticity, and welding properties are better matched, and it is the most widely used.
Chemical composition and mechanical properties Of A36 steel
Chemical composition of A36 steel
Element
C
Mn
P
S
Si
Content
0.25%
1.03%
0.040%
0.05%
0.4%
Physical properties of A36 steel
Grade
Tensile strength
Yield point
Elongation after breaking
Density
A36
400 - 550 MPa
250 MPa
20.0 %
7.85 g/cm3
Any standard carburizing and hardening methods of AISI 1018 steel is suitable for ASTM A36.
It is used in bolted, riveted or welded construction of bridges, buildings and oil rigs.It is used in forming tanks, bins, bearing plates, fixtures, rings, templates, jigs, sprockets, cams, gears, base plates, forgings, ornamental works, stakes, brackets, automotive and agricultural equipment, frames, machinery parts.It is used for various parts obtained by flame cutting such as in parking garages, walkways, boat landing ramps and trenches.
A36 steel is easy to weld using any type of welding methods, and the welds and joints so formed are of excellent quality.
The machinability rate of A36 is estimated to be 72%, and the average surface cutting feed of A36 is 120 ft/min.
If you cannot find the content you want on this page, please send an email to: [email protected] for more content.
Why choose us:
*Top 20 companies in steel industry trade volume.
*Customized processing steel one-stop purchase.
*Exports of steel exceeded tens of billions for 5 consecutive years.
*We have a complete set of testing equipment, such as ut & ET, hydrauilc testinge quipment, spectrometer, scanning electron microscope, etc, and have passed SGS TUV certification.
*JM Steel has hundreds of millions of high-end processing equipment at home and abroad, including precision cutting equipment: advanced Italian Nova stainless steel Kaiping production line, Taiwan Weitai stainless steel cross-cutting line, Taiwan Weitai stainless steel slitting line, large-scale stainless steel cold and hot rolling Flattening machine, slitting machine, etc.
For More details of each item,contact our sales to know more about it.Thanks for your visiting of JM steel,save our web.You will be more professional in steel industry.